Outline of Research Activities
Our research interest includes power converters and motor drives in power electronics field. The power electronics is an academic and technical field that focuses on power conversion using semiconductor devices. The most typical power converter is an inverter, which is widely employed as a motor drive system to various applications such as a high-speed train, a local railway, an electric vehicle, a hybrid vehicle, an elevator, an escalator, a robot, an air-conditioner and more. All these applications contribute to save system energy and to make control performance more sophisticated.
Research Topics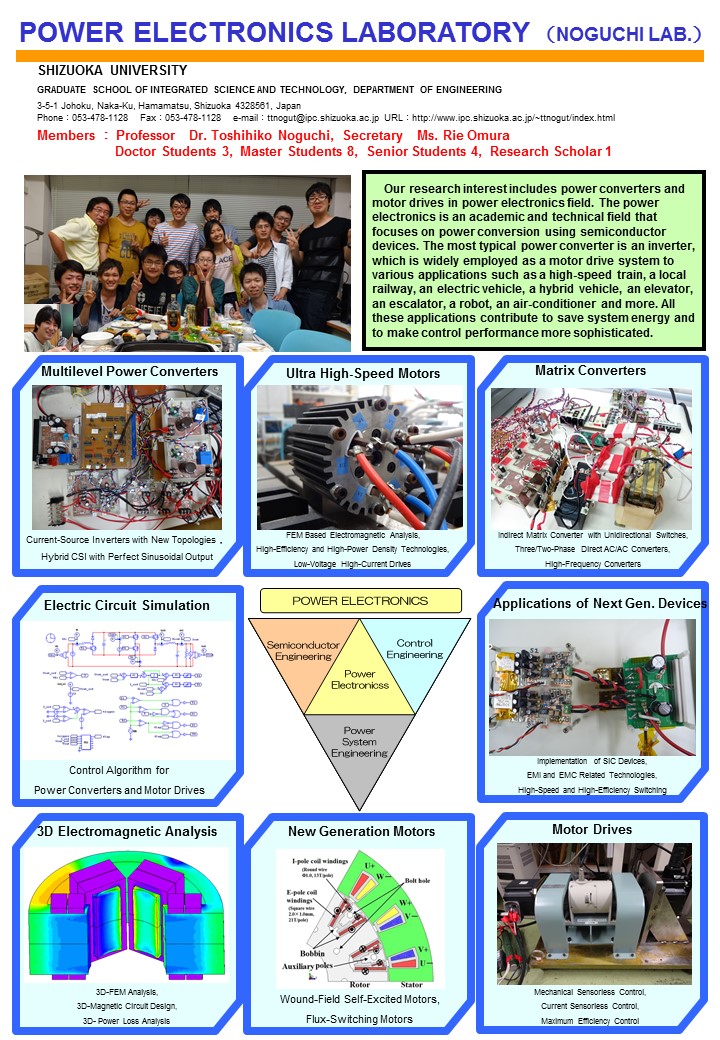 Study on novel topologies of multilevel power converters
Study on high-speed and high-efficiency switching techniques for next-generation MOSFETs
Study on rare-earth permanent magnet free motors of HEV and EV
Study on parameter identification of PM motors
Study an high-power density and high-efficiency electric machines for automotive applications
Study on high-efficiency control of synchronous reluctance motor
Study on ultra high-speed PM motor fed by low-voltage power source
Study on maximum torque control of PM motor
Study on novel topologies of DC/DC converters for automotive applications
Study on novel AC/AC converters for high-frequency applications
Study on sinusoidal waveform output DC/AC converters
You can download our laboratory's leaflet from
HERE.